Discover Black Friday Magic with nubia: Up to $60 Off on the Z50S Pro!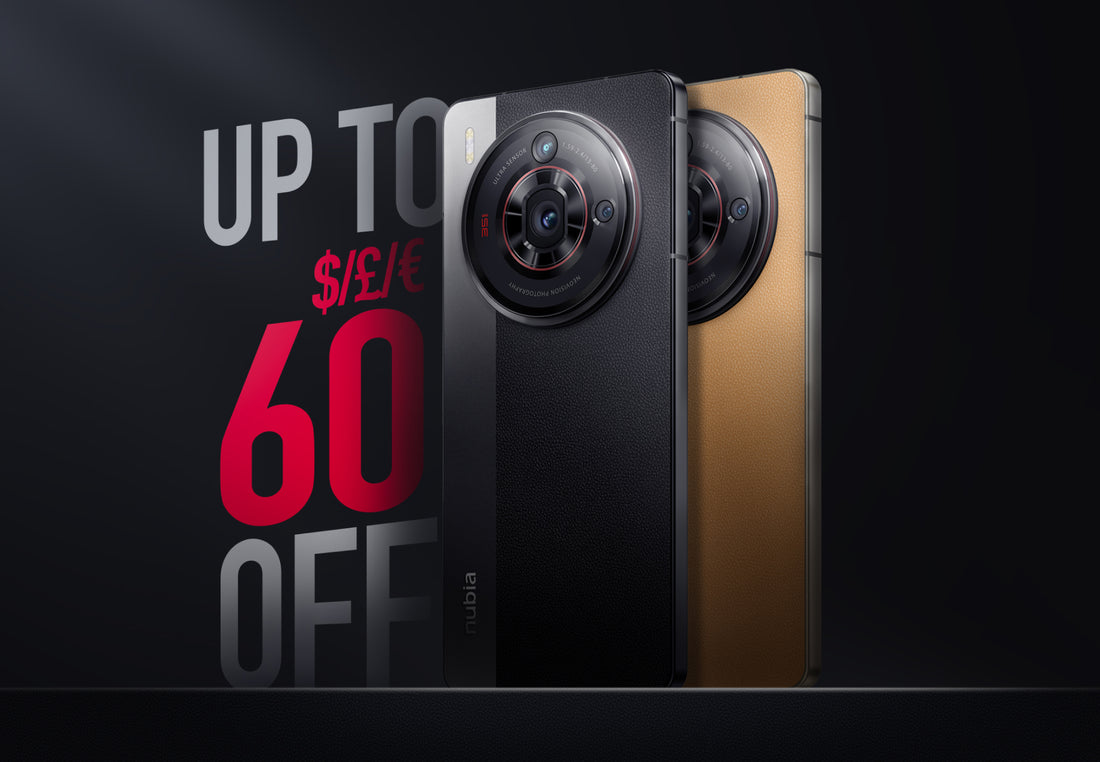 As Black Friday approaches, nubia invites you to a shopping experience like no other, featuring an exceptional offer on the nubia Z50S Pro. This season, we're making your tech dreams a reality with a captivating deal on this masterpiece of innovation. For every nubia lover, we're slashing $/€/£50 off the normal retailing price, transforming the nubia Z50S Pro from a dream into an attainable luxury.
For newcomers to the nubia family, the welcome is even warmer. Enjoy an extra $/€/£10 off your first purchase, and be among the first to access our exciting news and exclusive offers.
A Visual and Performance Masterpiece
The nubia Z50S Pro isn't just a phone; it's a portal to a visual odyssey like no other. Imagine immersing yourself in a 6.78-inch flexible AMOLED screen, where a 1.5K Super Retina resolution brings every pixel to life in stunning clarity and color. This isn't just about viewing content; it's about experiencing it in a spectrum of 1.07 billion colors, all displayed with breathtaking authenticity.
Your comfort is paramount, reflected in the screen's UL Platinum-level certification for low blue light and minimal flicker, ensuring a gentle, eye-friendly experience. And when you interact with your phone, the 120Hz refresh rate transforms each swipe and scroll into an effortlessly smooth, fluid motion, further enhanced by the phone's robust performance.
Under this elegantly crafted chassis lies a powerhouse of performance - the Snapdragon 8 Gen 2 processor. This technological heart, crafted from TSMC's 4nm process, is not just a symbol of raw power; it's a testament to efficiency. With storage configurations ranging from 12GB + 256GB to a luxurious 16GB + 1TB, the Z50S Pro ensures a seamless, spacious experience.
nubia's latest OS, MyOS 13, is a symphony of elegance and utility. It's an ad-free, responsive interface, designed with a minimalist aesthetic that's both visually and functionally delightful. The phone's advanced cooling system maintains optimal performance, keeping it cool and reliable, even during intense usage.
Redefining Mobile Photography
Photography with the Z50S Pro is not just about capturing images; it's about narrating stories. The phone's camera design pays homage to classic camera aesthetics, blending form and function. The heart of its photographic prowess lies in the 35mm haute main camera, ideal for capturing everything from expansive landscapes to the dynamic bustle of street life.
The 1G+6P customized lens structure takes clarity and color fidelity to new heights, ensuring every shot is a true representation of the moment. Smart algorithms excel in various scenarios, particularly in night photography and dynamic motion capture, ensuring that your memories are always vivid, clear, and full of life.
Your Chance to Own the Exceptional
This Black Friday, step into the future with the nubia Z50S Pro. It's more than just a smartphone; it's a beacon of innovation and elegance, setting new standards in display, performance, and photography. As you embrace this exclusive offer, you're not just choosing a device; you're choosing an experience that redefines what a smartphone can be.
Don't miss this opportunity to make the nubia Z50S Pro yours. Join the nubia Black Friday deals now and be part of a world where technology meets artistry, and every interaction is an extraordinary journey.